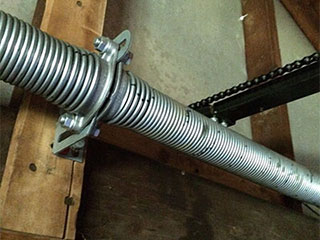 At Garage Door Repair Eden Prairie we understand just how important your garage door springs are for your automated doors. They provide lift, balance, and sturdiness to the system so that it can be used economically, effectively, and above all, safely. Ensuring that they continue to work flawlessly requires a little work from time to time, which is why our team is here to offer replacements, repairs and maintenance services geared at extending their lifespan and functionality.
New Installations and Replacements
Whether you are installing a new door, or are simply replacing aged components, it is important to select a spring solution that meets the unique challenges of your door. You might be interested in weather-resistant solutions such as galvanized garage door torsion springs, or you could opt for a more affordable solution if strength is not required. Whatever your choice, our team is here to advise and assist you with the selection, replacements, and installation.
Repairing Broken Springs
Your garage door springs have a limited lifespan. They work under incredible pressure, even when not in use, which takes its toll on them over time. Because of this, you may find it necessary to have broken garage door springs repaired every so often. Contact us to find out more about how we can help.
Maintaining Springs
With regular services, our team can extend the lifespan of your springs so that you can get more use out of them. We provide inspections and lubrication maintenance to help you spot and deal with potential problems before they arise.
Contact Us Today For Further Details
For further details on how we can assist you, contact us at any time, explore our website, or schedule your appointment with us online!
Looking for more? We also offer:
Garage Door Opener Track Maintenance
Opener Sensor Replacement
Oil Tempered Torsion Springs
Emergency Garage Door Repairs