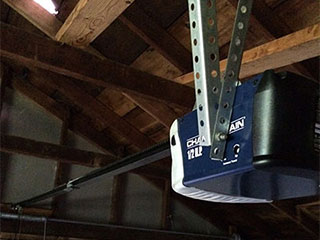 How It Works
The garage door opener is the mechanism by which your door is raised and shut every day. Typically, a trolley is connected to a motor by either a flexible or rigid connector such as a chain, rubber belt, or screw drive. The motor could also be directly inside the trolley, or the door could use a jackshaft mechanism instead with the motor on the torsion rod, although those are currently more popular for commercial use due to additional safety concerns. Commercial door openers are usually larger and more complex, so a visit from our fully qualified technicians is even more important to ensure a safe and smooth repair. Whatever design it uses, a working opener is key to a working garage door for your home or business.
Quality Service
Our trained technicians make your satisfaction a priority. Decades of expertise in garage door openers lends itself to swift and reliable repair or replacement depending on your needs. Let us inspect for worn parts that may be dangerously close to a break, or misalignments that may be causing you irritation with a jerking door or slow speed. Whether you need routine maintenance or a quick repair, count on us to provide you with a quality service call. We can fix your chain, belt, screw, trolley, motor, or whatever else it is that is preventing your garage door opener from working as you need it to. We aim for 100% customer satisfaction every time, and we know exactly what repairs you need for your opener to stop giving you grief.
Call Our Experts for Professional Opener Repair & Installation
A damaged or worn opener could be the start of a terrible day or lost work time for your business. Or, with the help of Garage Door Repair Eden Prairie, it never has to bother you at all. Contact us for information on services, appointments, availability, and pricing.
You can also count on us for:
Garage Door Safety Inspections
Screw Drive Opener Replacement
Broken Spring Replacement & Repair
Torsion & Extension Spring Replacement